An exclusive and inspiring interview with Mr Marino Franinović, photos of the leading European destination Villa Giardino, which is located on the List of 25 Must See Places in Europe, constructed in complete harmony with nature, magnificent gardens and royally decorated rooms, whose colour palette is perfectly composed with motives of the world famous Brač stone, offering state-of-the-art fast internet… Villa Giardino is an important part of Bol's heritage – it was chosen by Franz Joseph I on his visit to Brač, and its popularity among celebrities has continued to this day, with frequent visits by Hollywood stars, members of the royal family and other influential guests.
Welcome to Villa Giardino!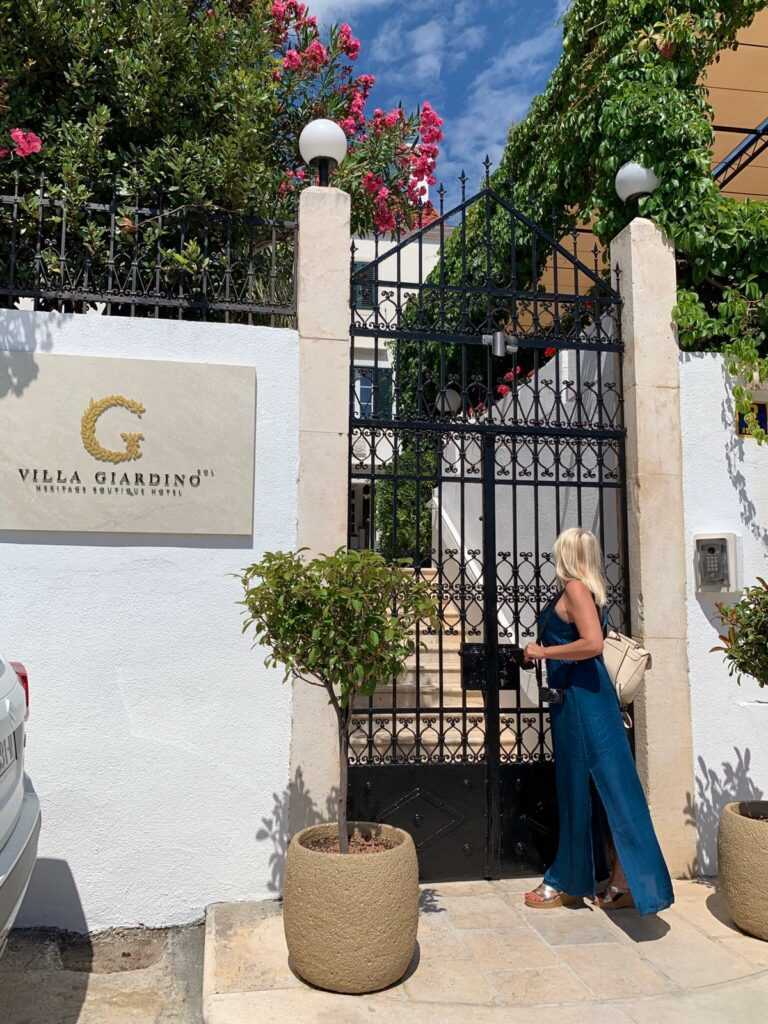 GEM OF BOL
When Mr Marino Franinović contacted us to write a blog about the beautiful Villa Giardino, we weren't even aware of the gem that this boutique hotel is.
He found our post "Phenomenal Destination Bol on the Island of Brač" while surfing the Internet on a flight back to Zagreb and he found it brilliant: "It's almost as if I wrote it myself."
He didn't hesitate to e-mail us and we agreed to meet this summer on our yearly visit to Bol.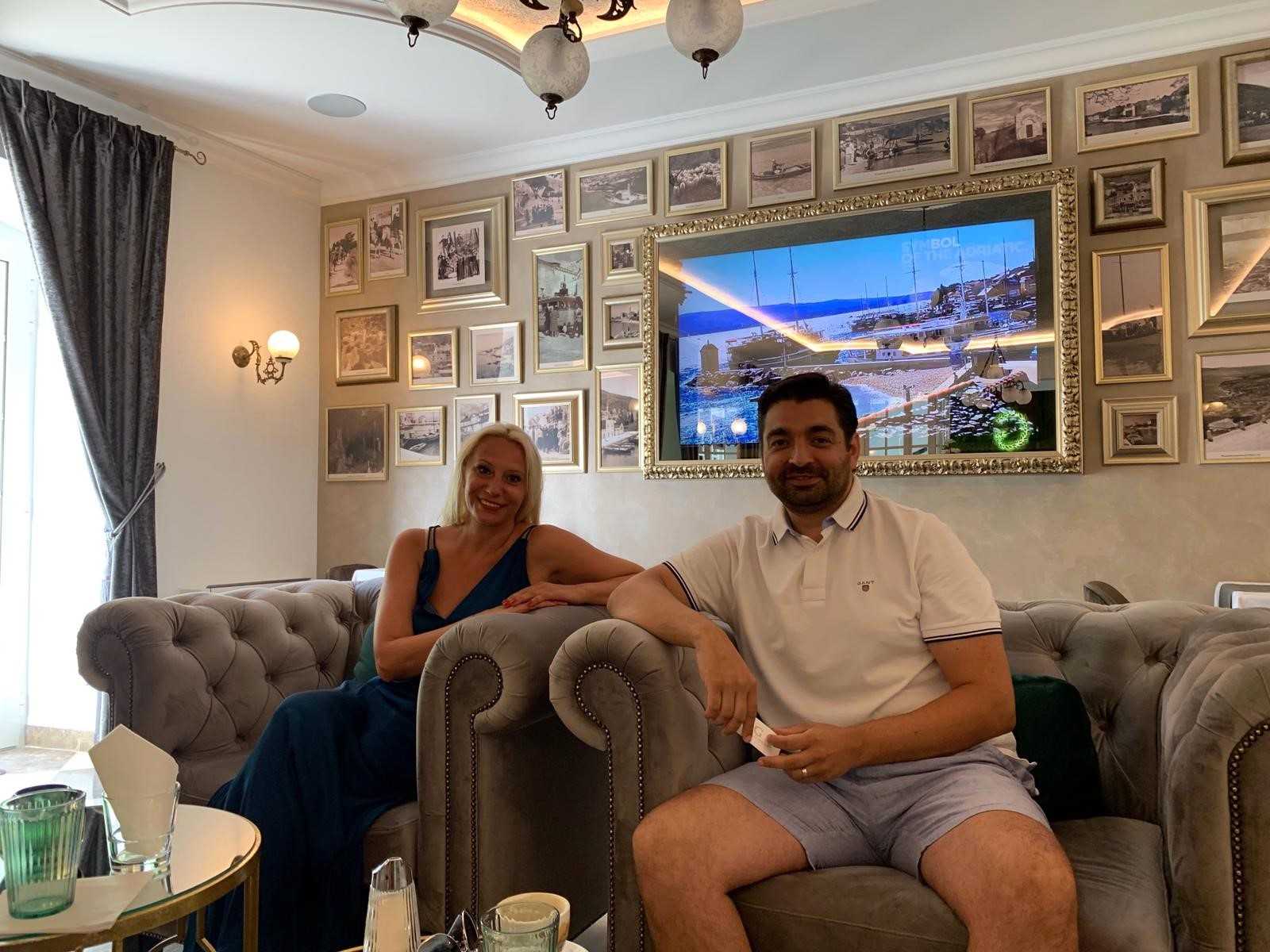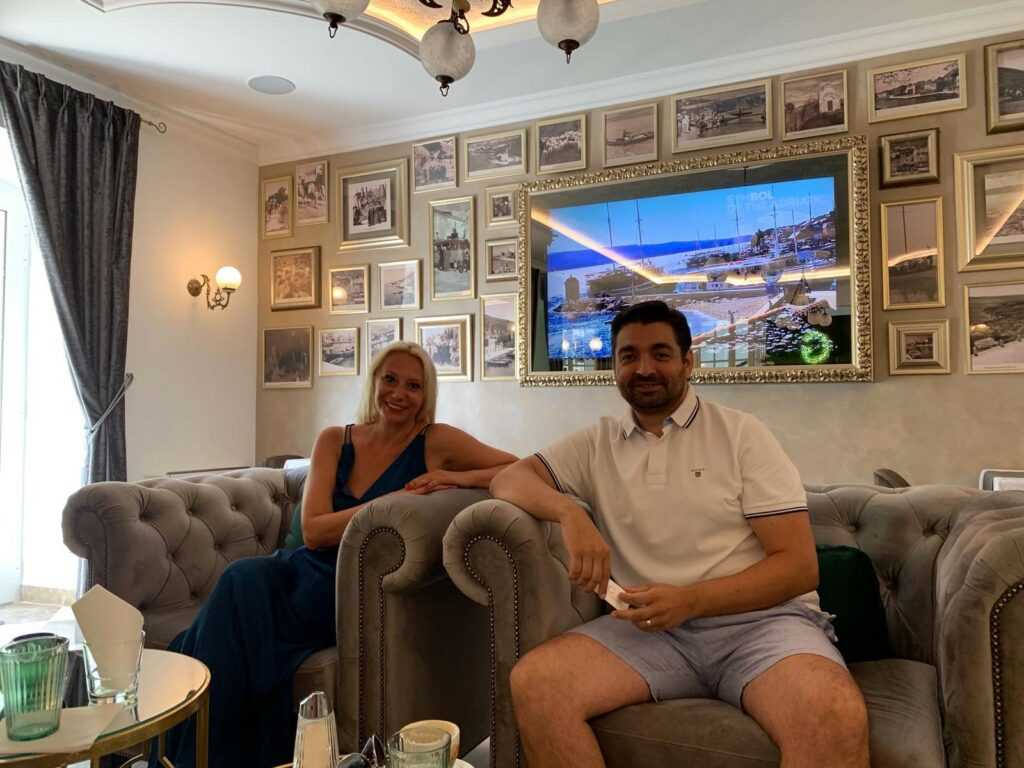 ROYAL OPULENCE
Villa Giardino is located 150 steps from the town centre with a magnificent view of the island of Hvar, in a quiet street which is not disturbed by the nightlife noise. It stands discreetly, hiding away gorgeous gardens with orange, lemon and olive trees, enchanting grass plains and neatly organized sunbeds inviting you to lay down and enjoy the Sun.
We were welcomed by Ciprijan, a kind-hearted young man who showed us every room of the villa while explaining its rich history to us.
According to a legend, Franz Joseph I stayed in this very building in 1875 while on his tour of the Adriatic coast, which was then owned by an aristocratic Bol family called Kraljević.
The foyer leaves a lasting impression – royally decorated with gold, silver and grey nuances, with grand mirrors and chandeliers and with forest green accents. The checkerboard tiles on the floor are made of Brač's famous stone. Everything is custom made, every nail hand-hammered, and every button hand sewn into the huge, luxurious armchairs.
The centrepiece is a big flat screen TV, surrounded by authentic black-and-white photos of Bol's history. The owner is very proud of the TV because it has three possibilities.
The first one is a live stream from the Bol's harbour, the second is a great number of TV channels, but the most unique one is that once turned off, it turns into a grandiose mirror.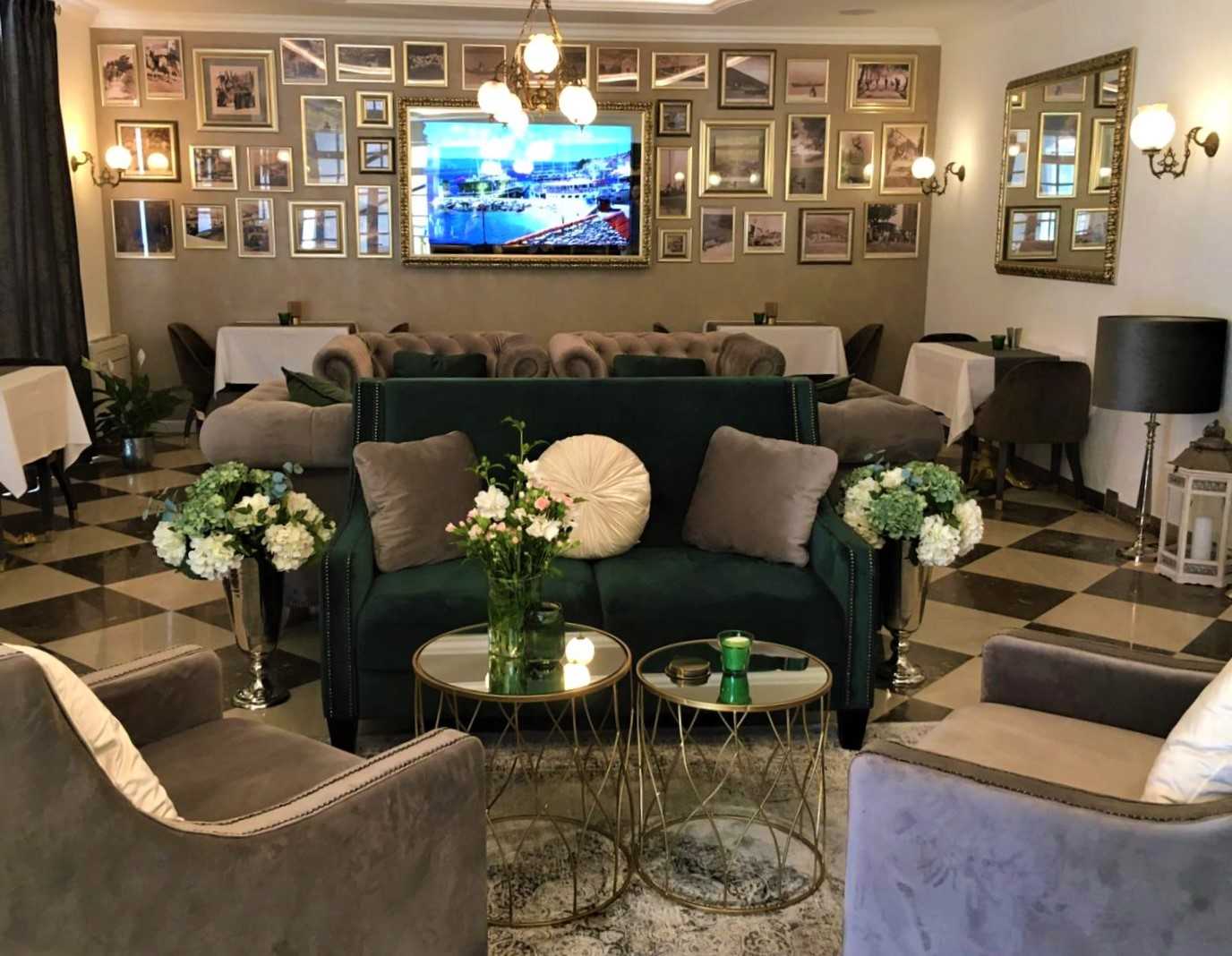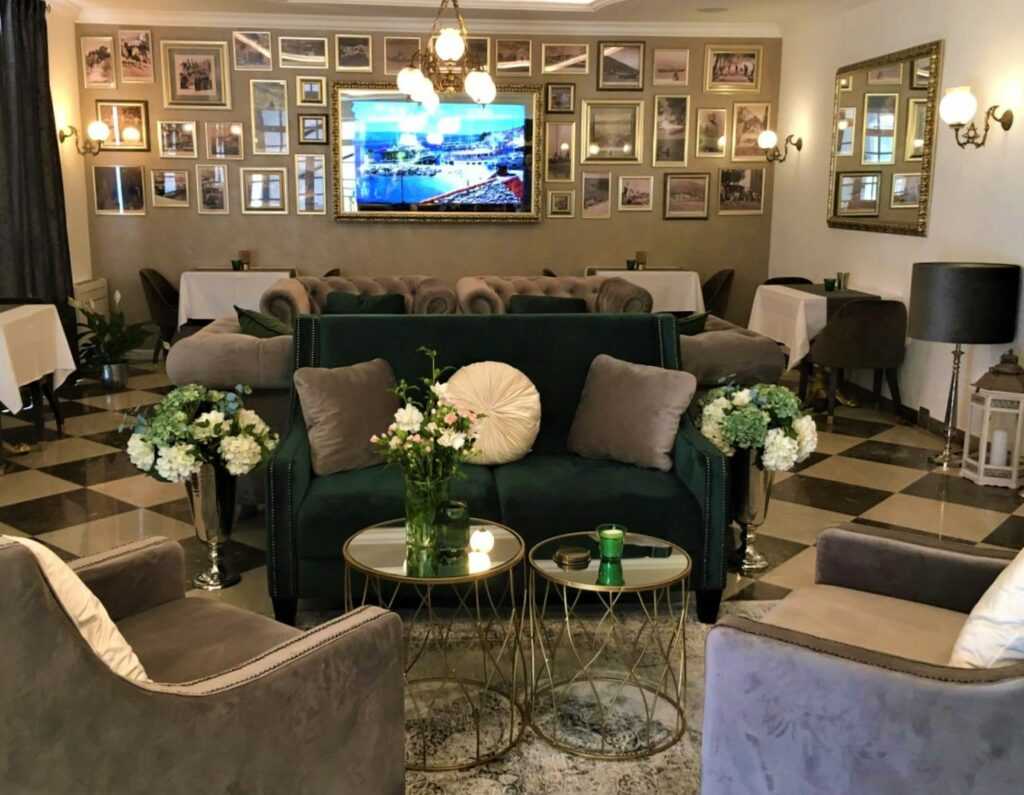 Royal design is woven into every room with gold-hemmed white linen hems and golden embroidery. It has 15 rooms and four apartments which are situated in the backyard.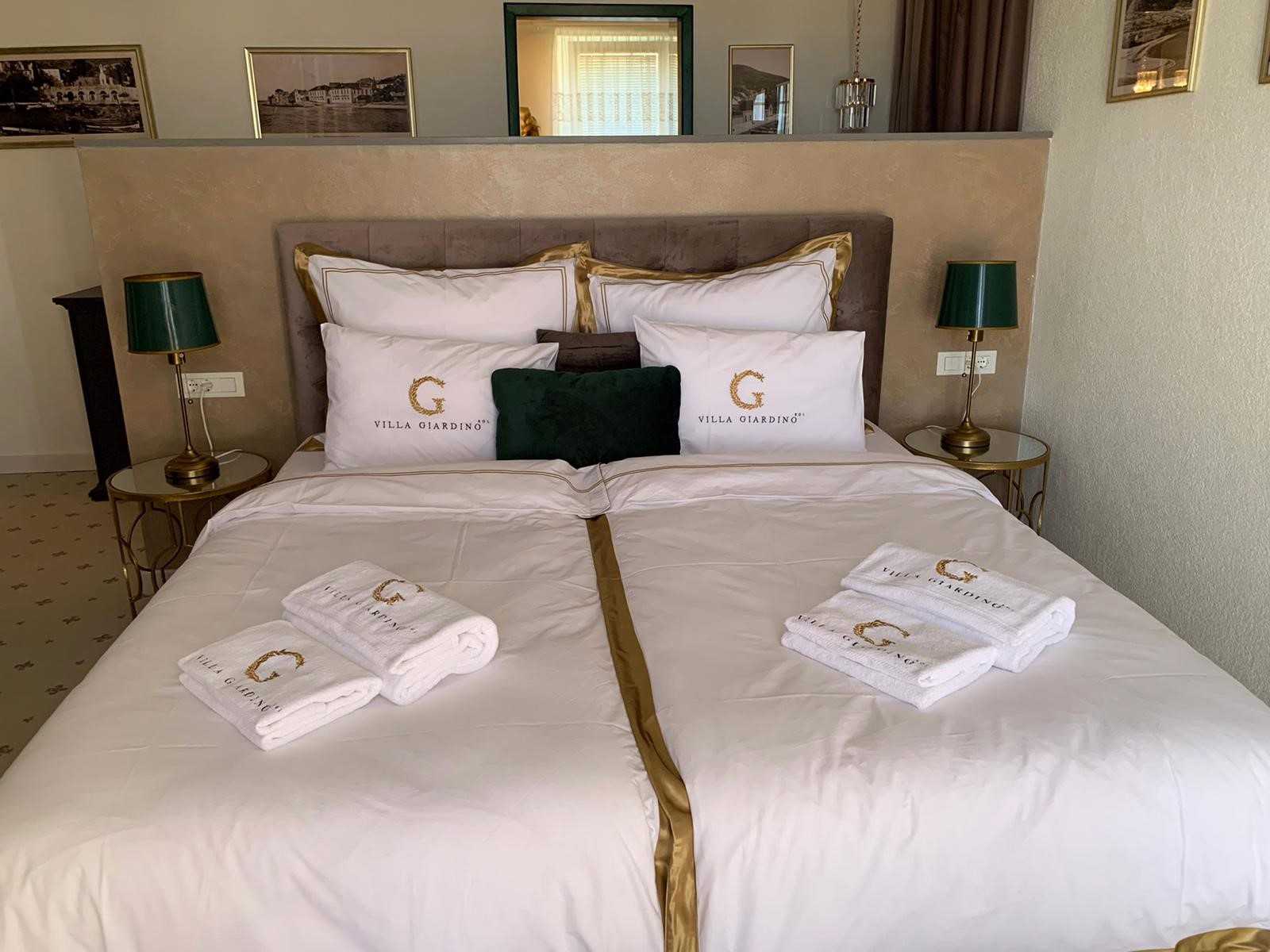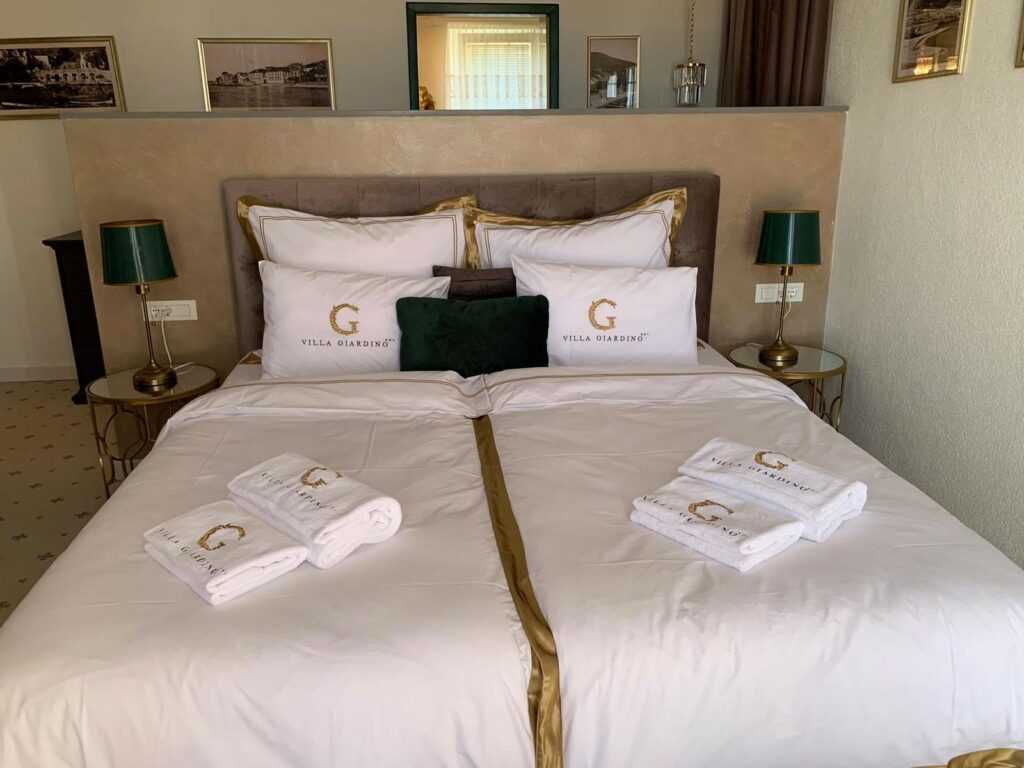 The royal suite is equipped with two bathrooms, two bedrooms and a splendid terrace with a breath-taking view. If needed, an extra room can be booked. The remains of an ancient fireplace called "komin", which was used for cooking in the old days, bring the guests a glimpse of the past.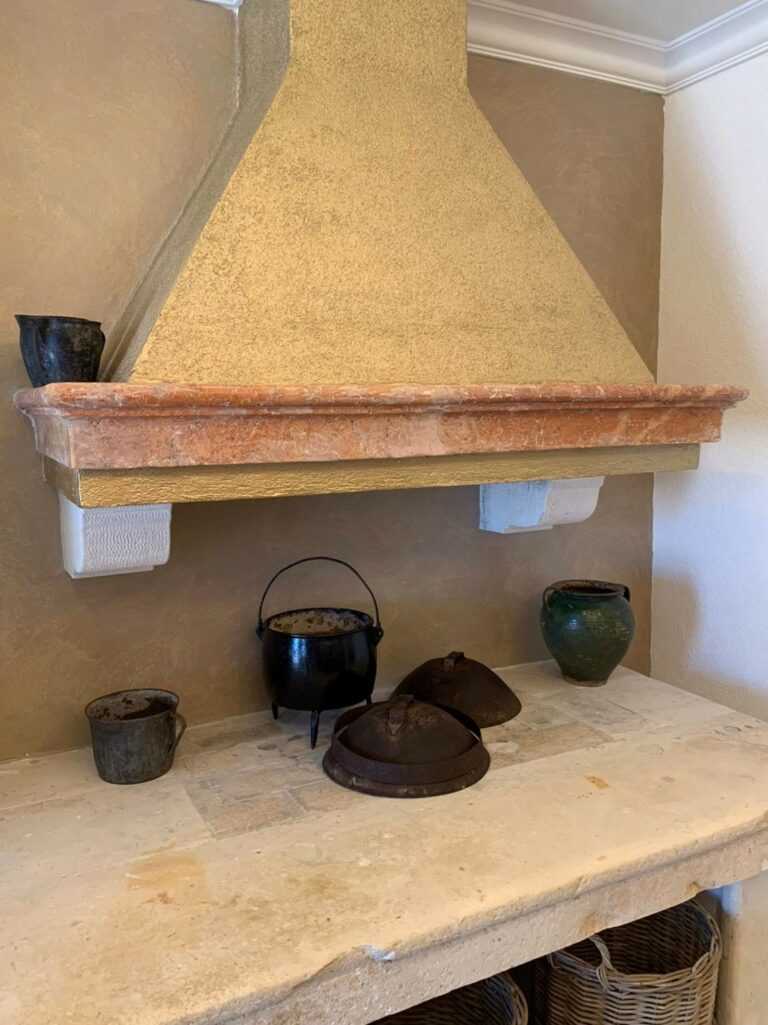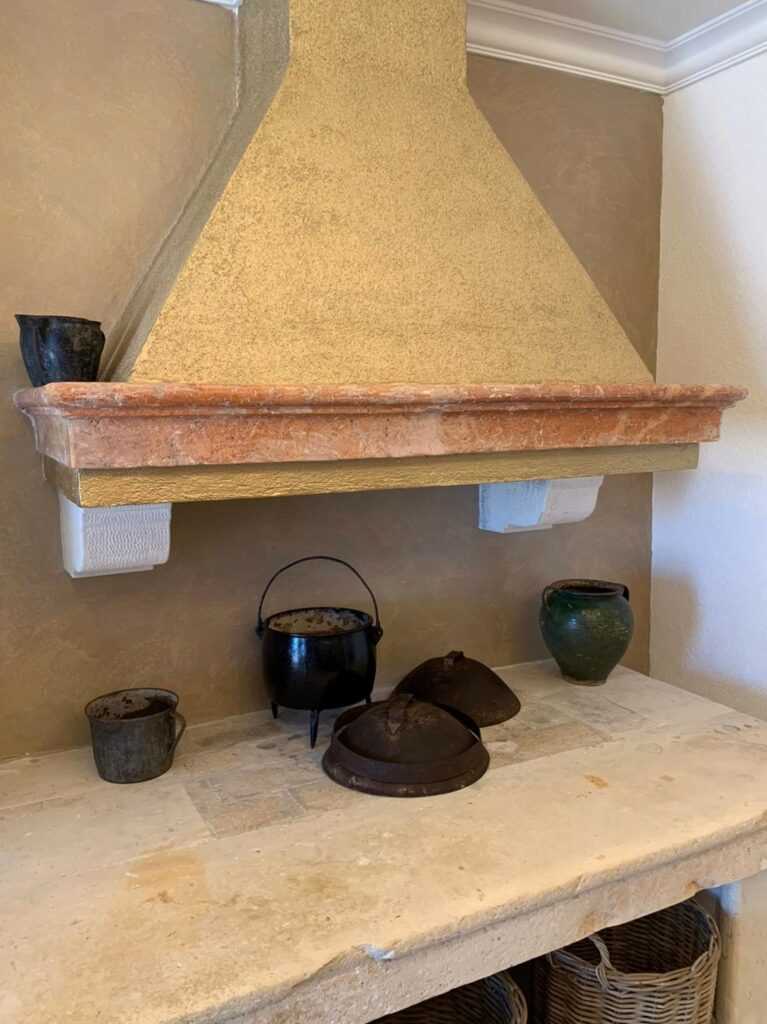 The front yard and backyard gardens remind of a heavenly habitat in which you can easily relax and enjoy the surroundings with all of your senses.
The owner is especially proud of the optic cable which he brought from Split to Bol himself, so guests could enjoy one of the fastest Internet connections in the world. He says that it was an immensely challenging manoeuvre and he is glad that it ended successfully because the guests are stunned with the connection speed that Villa Giardino offers, which can't be found in other hotels.
The domestic atmosphere between the workers and guests is truly one of a kind.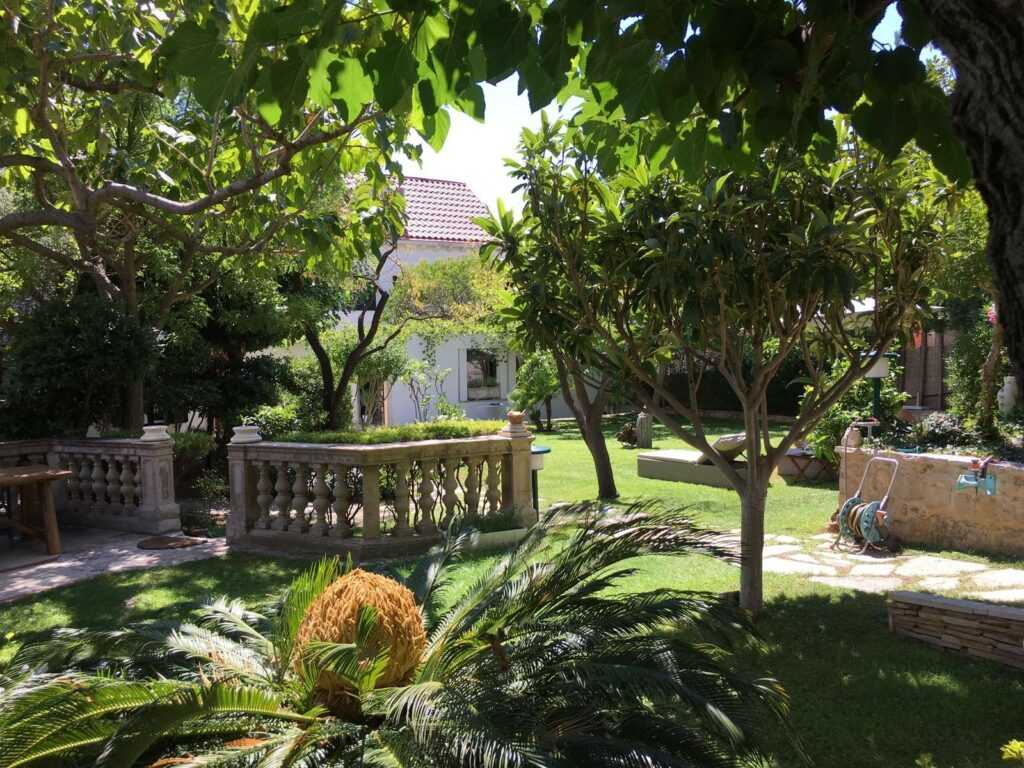 YOU SHOULD LIVE SO YOUR PARENTS REJOICE YOU, AND YOUR FRIENDS VALUE YOU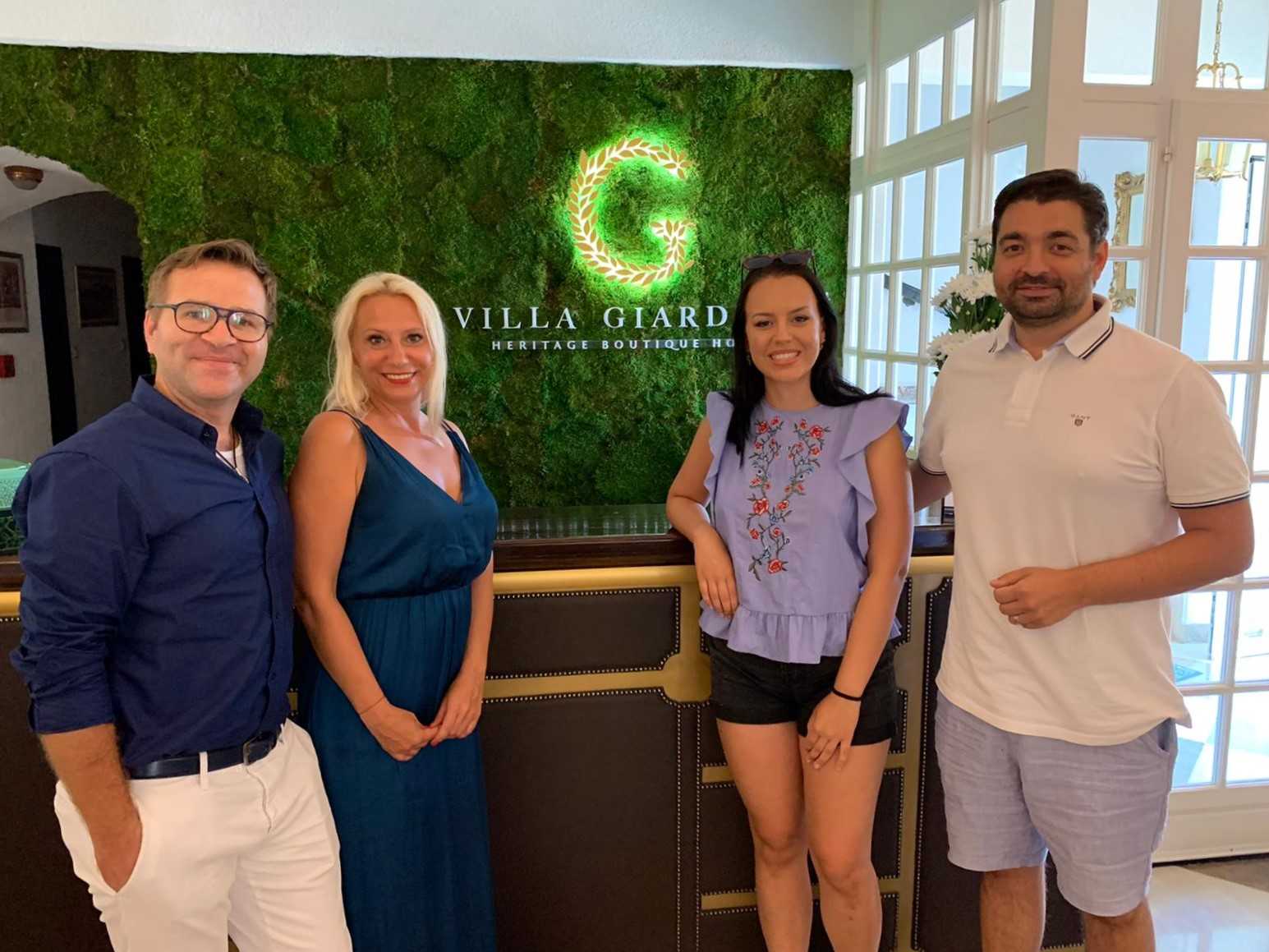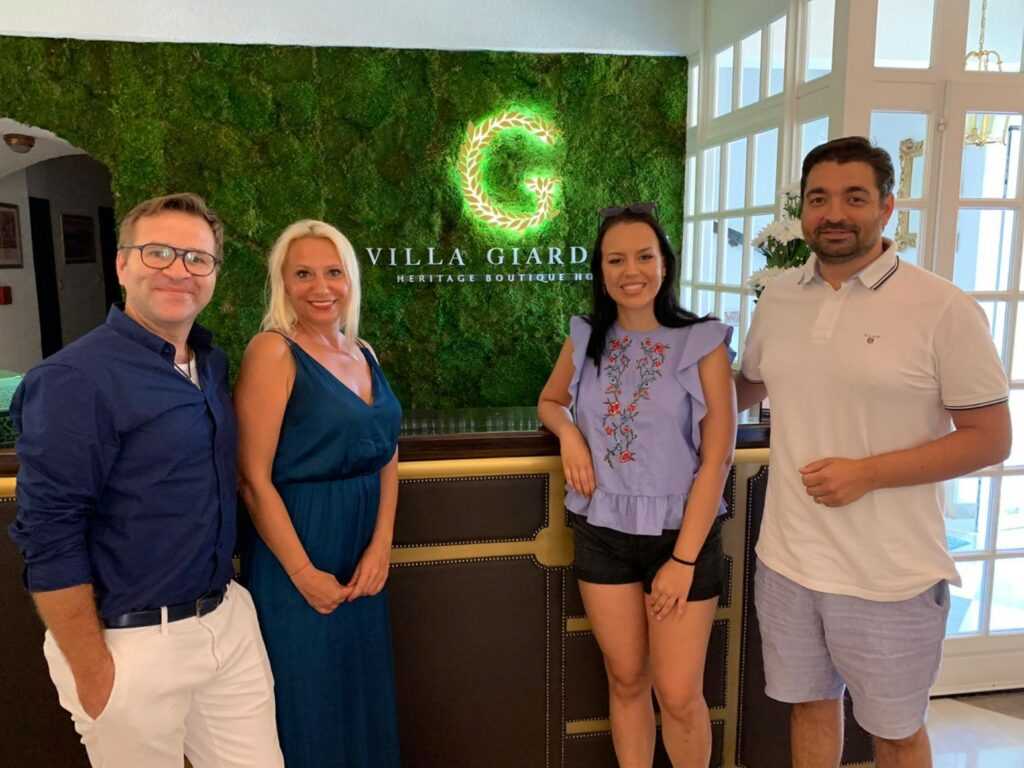 The owner of the villa Mr Marino Franinović welcomed us like good friends, almost like family, with a wide smile, open heart and a distinct sense of modesty. He told us the story which we fully report:
"You should live so your parents rejoice you, and your friends value you", Mr Franinović started, "because that way, once you grow old, you'll be able to look back and enjoy your life once again.
"Last year, we celebrated 30 years since the first opening. What truly brings me joy is that Villa Giardino always gets the top marks and ranks first, with 5/5 and 10/10 reviews, so we continue to expand in the same spirit."
In all of Croatia's hotel industry, there probably isn't another object with references as valuable as Villa Giardino. It has been written about in leading world publications, such as: "Lonely Planet", "The New York Times", "The Telegraph", "London Times", "Mail on Sunday"… It has been characterized as one of the 25 locations you must visit in Europe.
"I am especially glad that one journalist wrote how he is immeasurably happy that there are still places in the world, such as this one, where one human being can find another human being", which is what we confirmed ourselves.
"This object is not profit oriented, of course it has to be sustainable, because great people work in it and they must be paid, but primarily, this is a place that gathers marvellous people. When you say human being here, it carries weight and has a real meaning."
"It makes me happy to see all of us together, and now it especially makes me happy to have a place to invite all of the people I meet in the world".
"My mother is from Bol, my father is from Istria. Ever since I was a little child I had watched this house and dreamed about the life I'm living today."
"It all started in the summer of 2018, because I come here every summer, I had a meeting with the former owner, Vinko Gratelli's widow from Wien, and we started the negotiations"
"In the beginning I had my doubts about everything because years ago, I defined my life from the perspective of affluence and financial viewpoint"
"Namely, I am happy and rich from one reason only. The unparalleled satisfaction comes from the smile, the health of the family and friends, which are all happy and healthy, makes me happy and I have nothing to add or deduct, because that is where it all starts and ends."
"From the material perspective, I always said that prosperity is not about how much you have, but rather how much you need. To illustrate, the three of us here can drink one, three, six bottles of wine, but we can't drink 99 bottles of wine. Just like that, it doesn't matter whether you have 1000 euros in your bank account, or a million. When you put it like that, your life gets much more satisfactory"
"People are usually longing for the things they don't have, rather than celebrate what they already have"
"I have two wonderful little girls and every breath I take, I take it for them, along with my dear wife who I didn't deserve because of my life which is always dynamic and I am always travelling somewhere."
"But when I took it all into account, Bol as a destination, and the infrastructure it offers; an under construction marina, and especially Brač international airport, because many of our guests arrive via private planes, I decided to endeavour."
"My only benefit is not the profit itself, but from my perspective and calculations, this object will pay itself off, and one day when my children grow up, they will inherit this and that is enough of a satisfaction for me."
"This is an admirable object in Bol, which is a beautiful, romantic, fishing village on the Adriatic." told us Mr Franinović.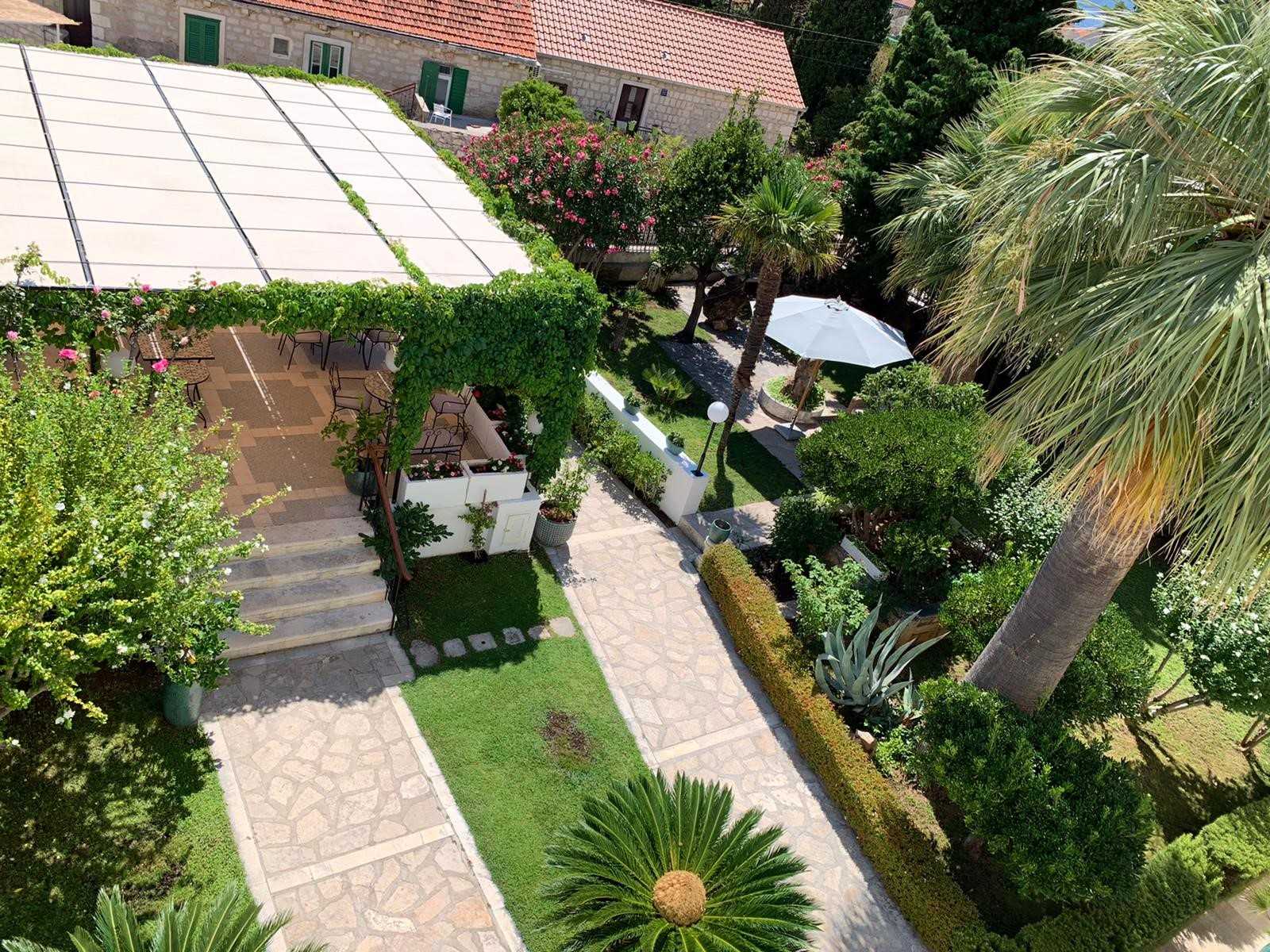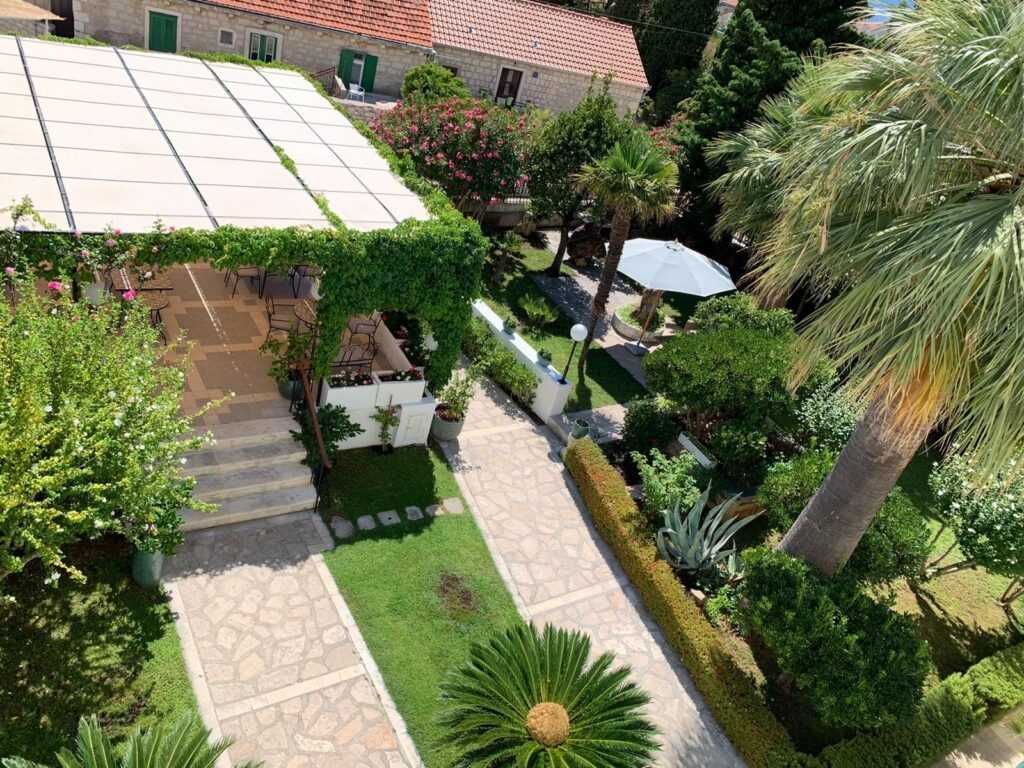 FIRST AMBASSADOR OF EUROPE – GLOBSEC
Shortly before writing this blog, Mr Franinović received fantastic news that he became the first ambassador in Europe for GLOBSEC, which is a non-governmental and autonomous organisation which deals with European business questions, especially the ones regarding safety and energy, and generally economy.
GLOBSEC is a global research centre whose headquarters are in EU, which deals with advancement of safety, prosperity and sustainability in Europe and the world. Its mission is to influence the future by generating new ideas for a better and safer world.
Mr Franinović commented about this: "I was raised to keep my feet on the ground and in the last few years I find myself in interesting functions across Europe, all of which thanks to the way I was raised and the degree of my education." He also adds that this type of news affect him greatly and that he couldn't believe it when he first heard it.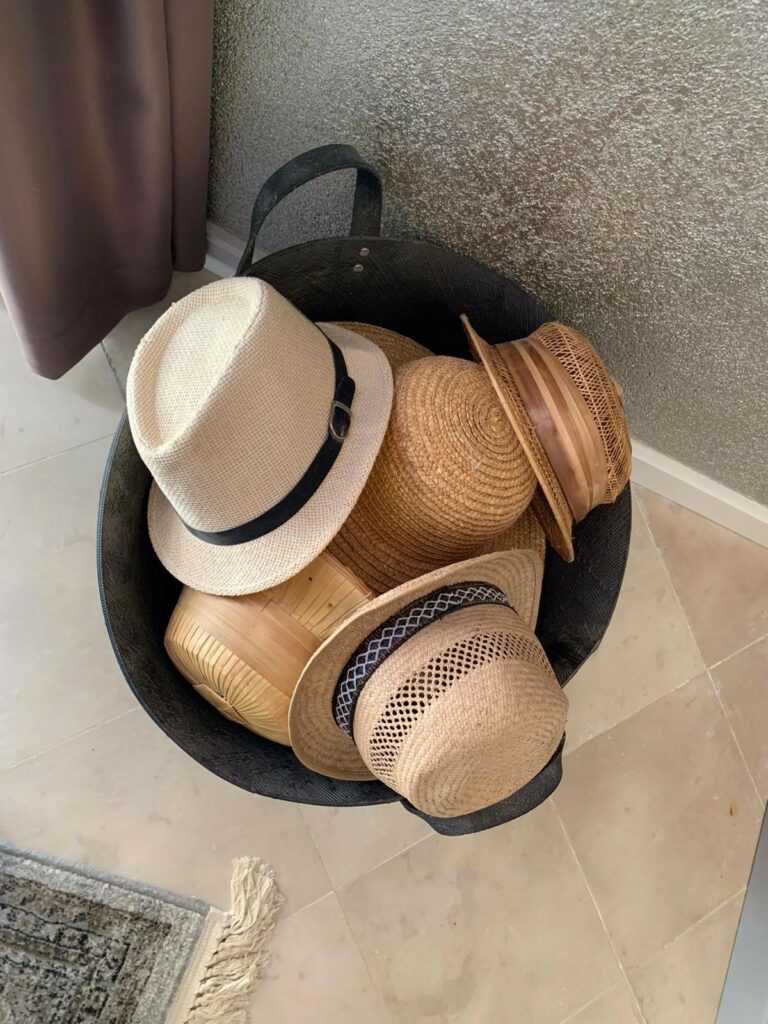 ENDLESS BOOK IN THE COVERS OF MODESTY
Mr Marino Franinović graduated in Zagreb with an Economics degree in the field of marketing. He got his master's degree in London and he represents the hope of Croatia as a man who built everything he has with his own knowledge and persistence, he didn't have anything handed to him. Even though he graduated from respectable universities, he still considers the most important school the school of life. He is still learning from people who had his years, but whose years he didn't have. He advises all the young people to welcome learning from older people. He has worked on several important positions in Europe and he is one of the leading people in the respectable international company specialised for sustainable energy solutions.
To meet a true visionary like Mr Marino Franinović represents true joy to us. His amazing intellectual connection with spirituality, a smile that seems to have no end, interesting stories make this man an endless book made for serving his closest, bound in the covers of modesty.
Another story that goes in favour of this man's amicable nature is that upon arriving in London he met Nick. Nick is from Brazil and they formed an unbreakable friendship. More than a decade later, the cheerful Brazilian moved to Bol, along with his wife, where he has lived for the past 2 years. He is the general manager of Villa Giardino, frequently using all of the 5 languages he speaks.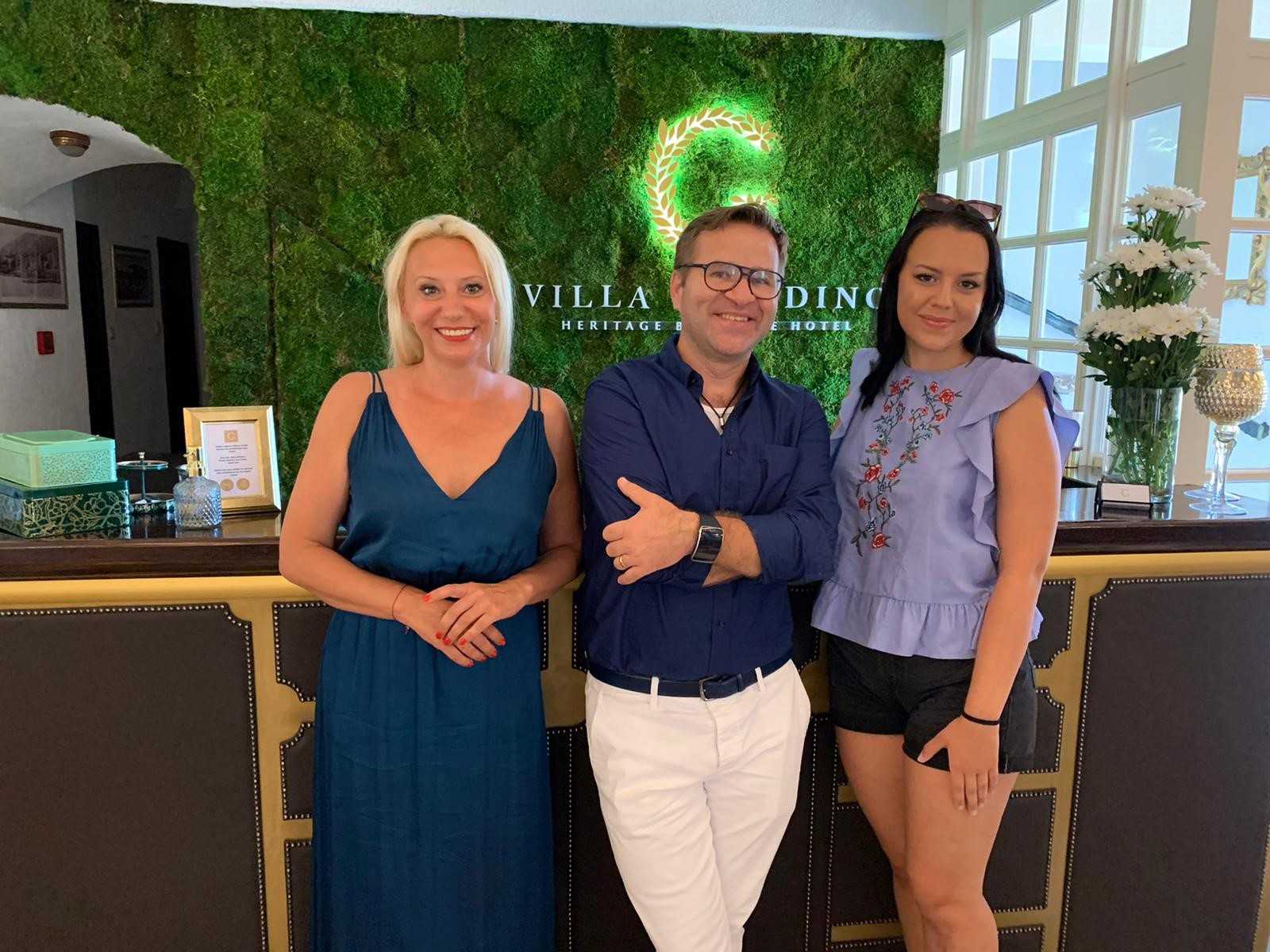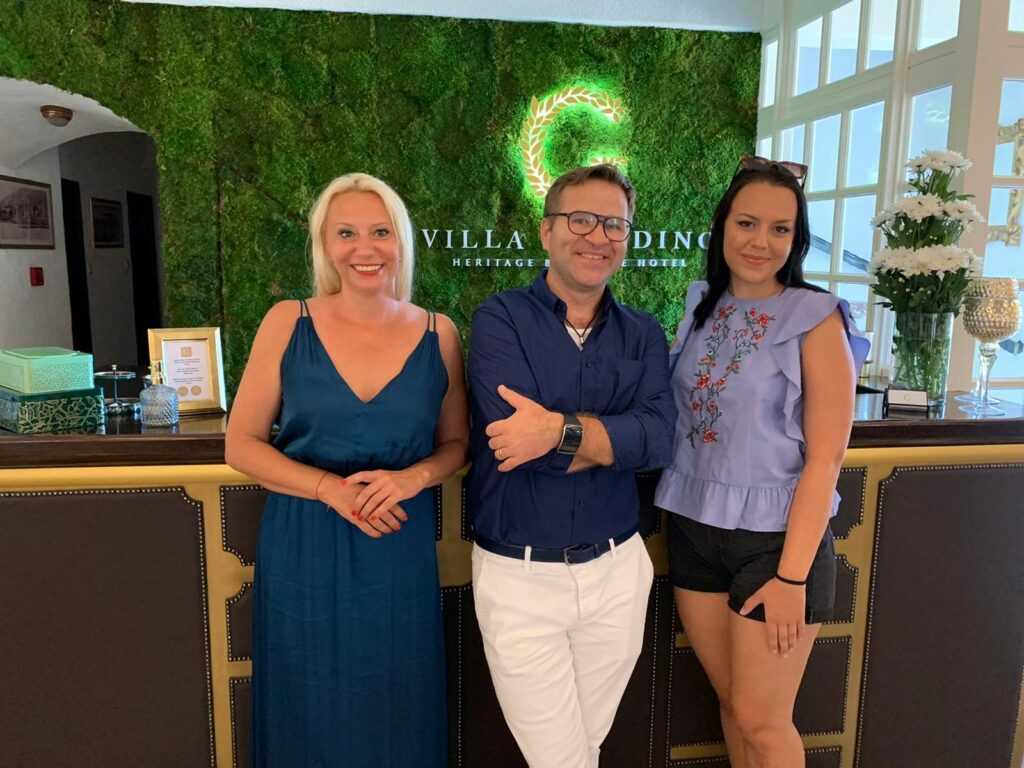 TOP NOTCH REVIEWS
This lavish villa regularly acquires best marks and reviews from its guest, and this we decided to put one in our blog:
"Home away from home
From the moment we arrved we were welcomed effusively by Nick and his wonderful staff. The hotel is a gem nestled away from the hustle and bustle but only a stone's throw from the middle of the town and the promenade. The rooms are beautifully furnished and clean. The staff are attentive and genuinely care that you enjoy your stay and relaxation is the key. Breakfast was delicious and tailored to your taste and no request is too much… The homemade banana bread has to be tasted to be believed. We heard George Clooney stayed for a few days, he clearly has impeccable taste. I can't wait to come back to Villa Giardino!"
Emma, London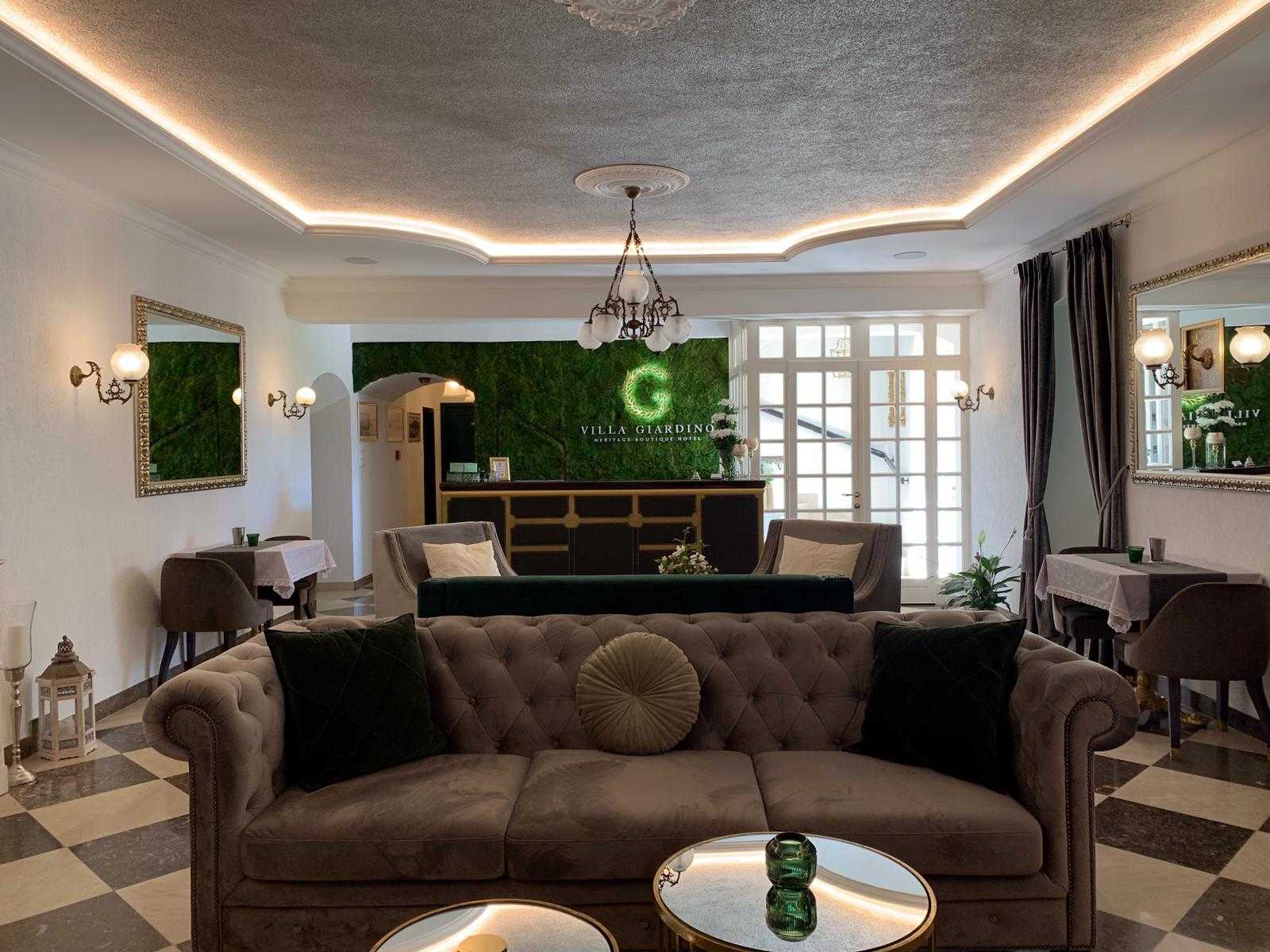 A QUANTUM OF WISDOM
"Politically undetermined, historically unburdened with a clear view of the future." is Mr Franinović's guiding thought. You witness this when you visit this acclaimed gem because in this historic Bol heritage stands a villa with the (nearly) fastest internet, perfectly combining history with the future. People who work here are practically angels with a positive outlook on life win everybody's hearts.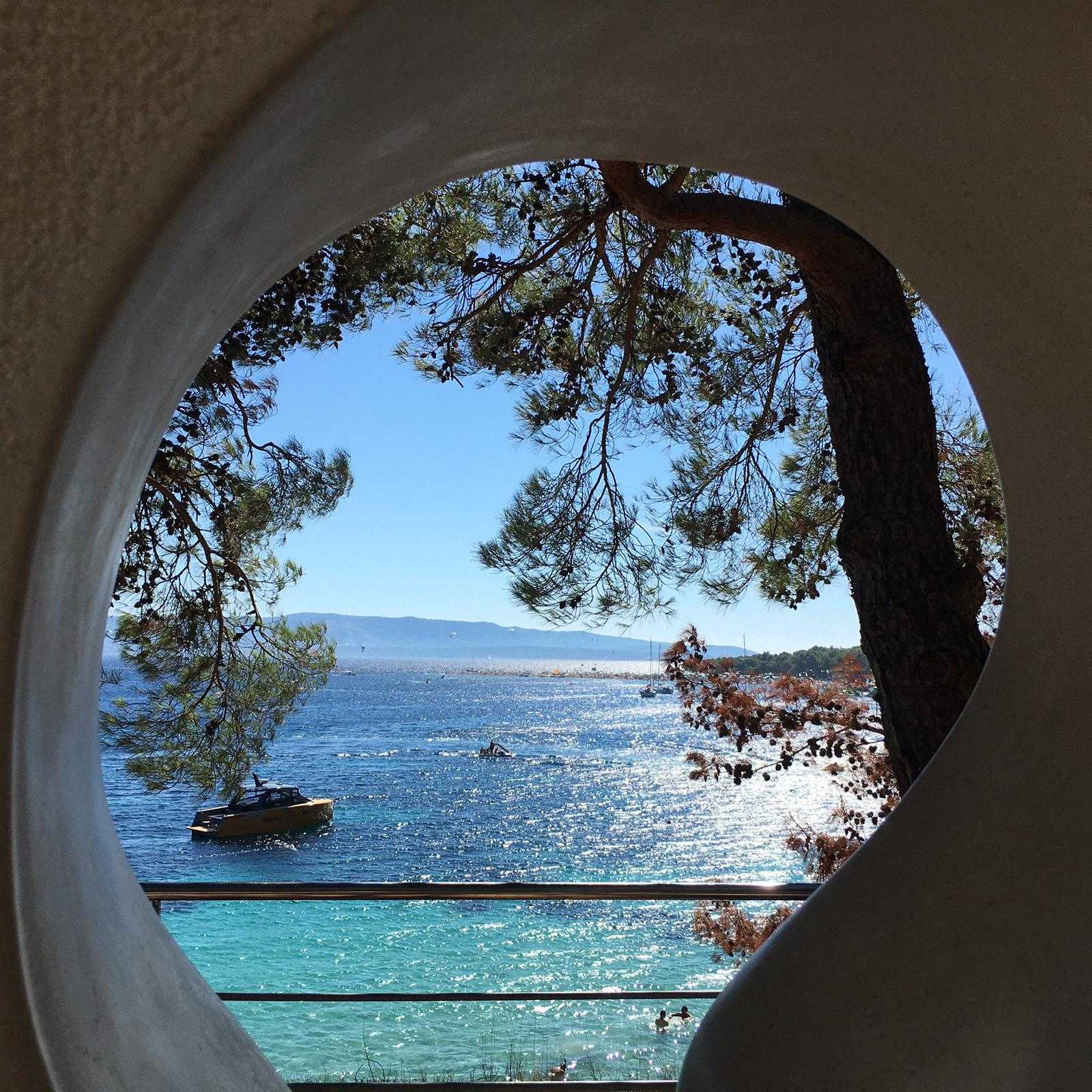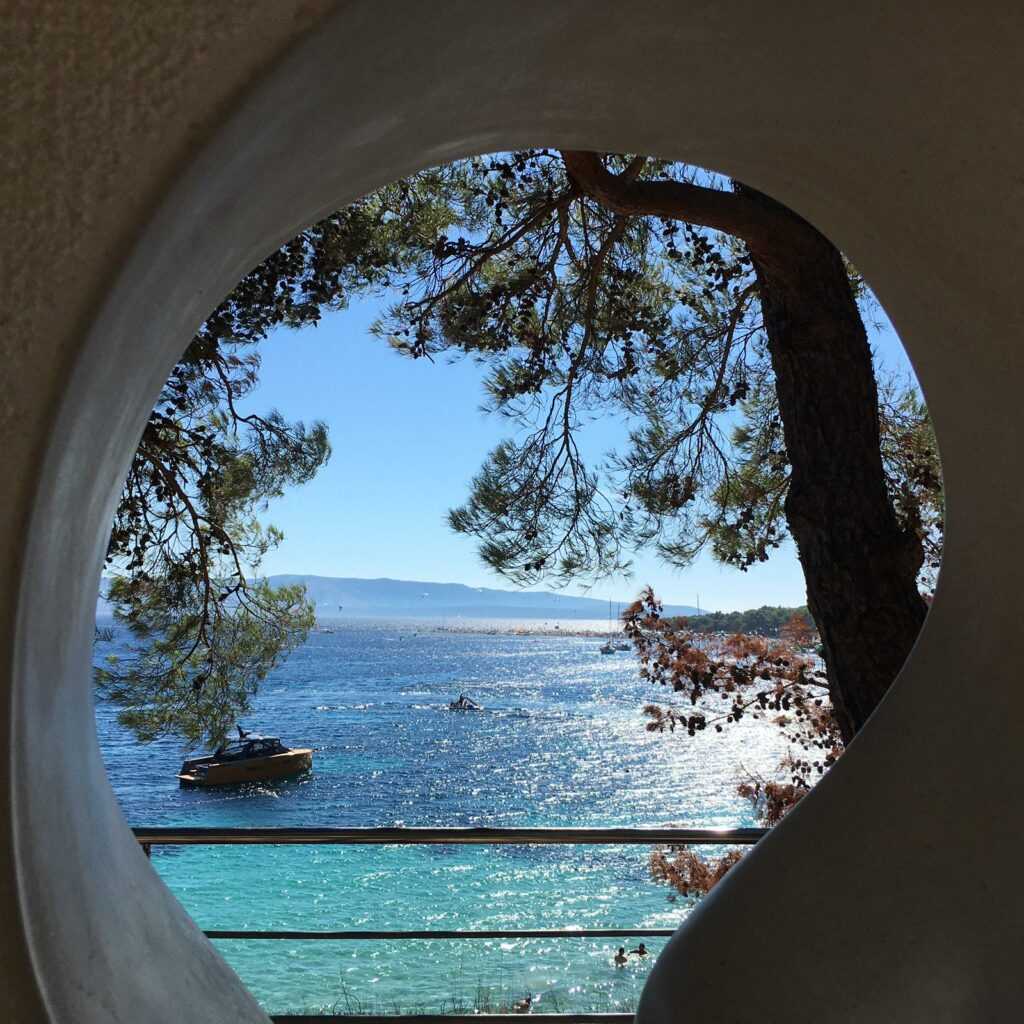 We would like to thank Mr Marino Franinović for inviting us to Villa Giardino, for your time and kind heart.
To all of our readers we want a lot of travels and add Bol to your bucket list.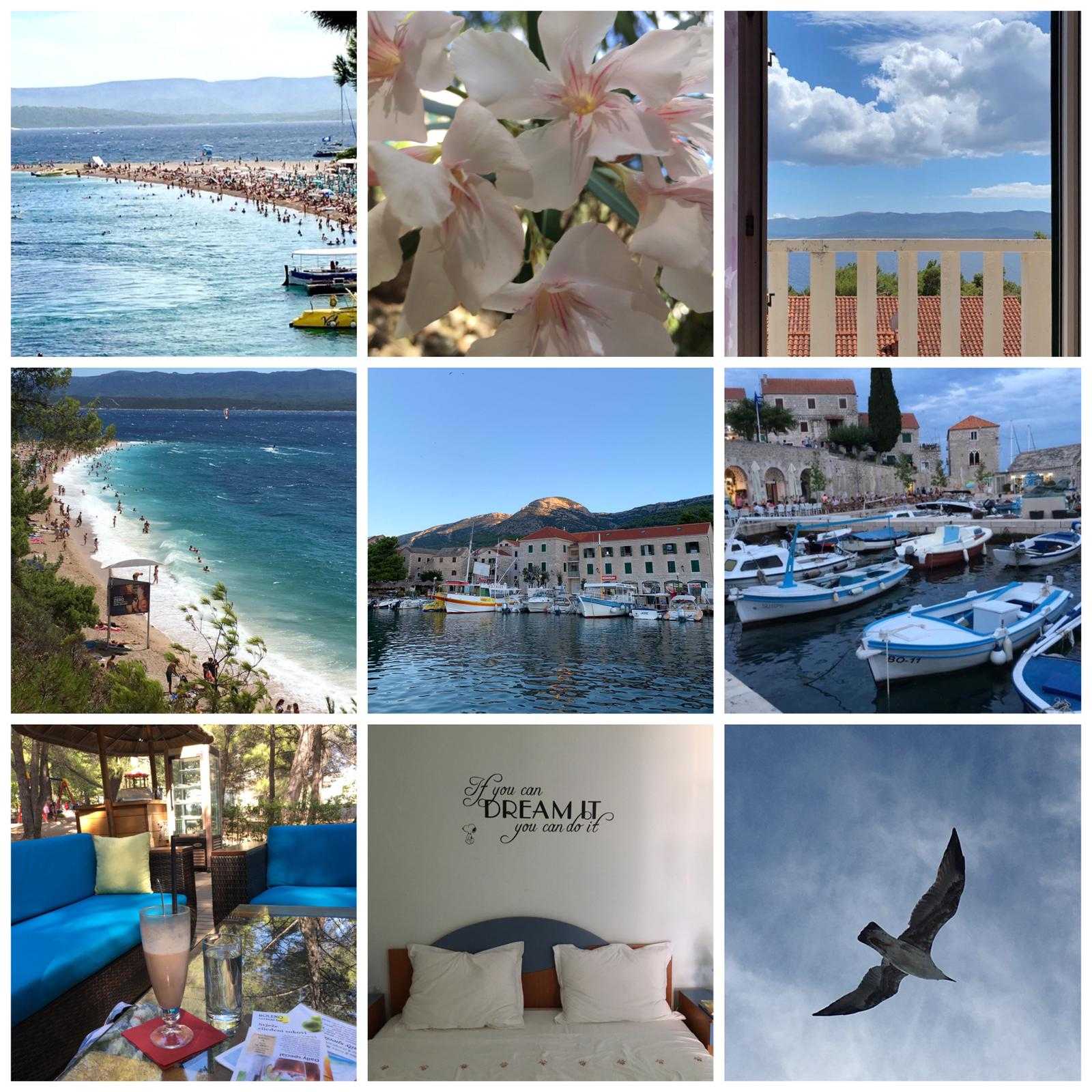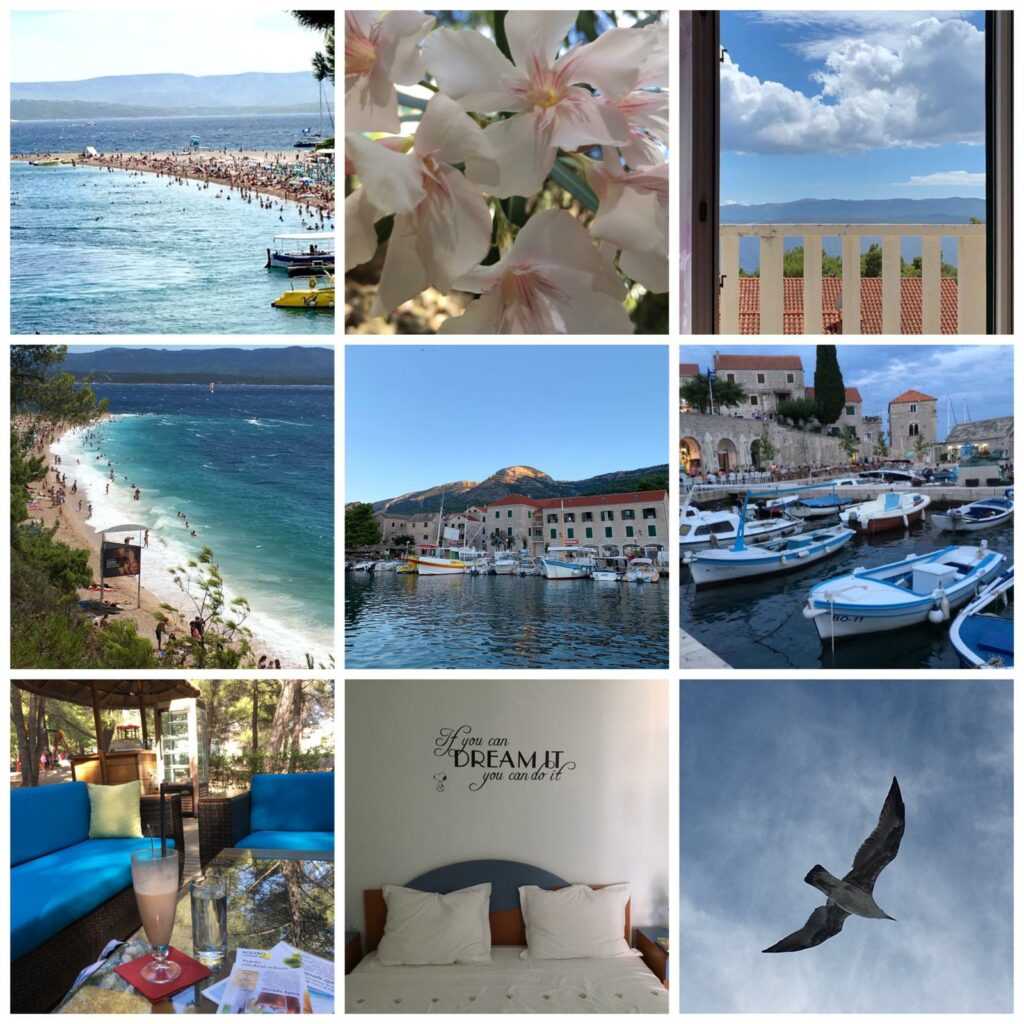 Thank you! Have a safe travel!
I Sretan Put!